BLOUNT PROMOTES RACHAEL BLOUNT GIRARD TO FOODSERVICE NATIONAL ACCOUNTS MARKET MANAGER
Role Also Expands To Include Product Sales Spokeswoman
Fall River, Mass. (December 5, 2018) – Blount Fine Foods, a leading manufacturer of premium, handcrafted soups, entrées, and side dishes for retail and foodservice, and the market leader in fresh retail soups, today announced Rachael Blount Girard has been promoted to Foodservice National Accounts Market Manager, an essential role as the company's foodservice sales channel continues to expand. She will continue to report to Blount's Senior Director of Marketing David Vittorio.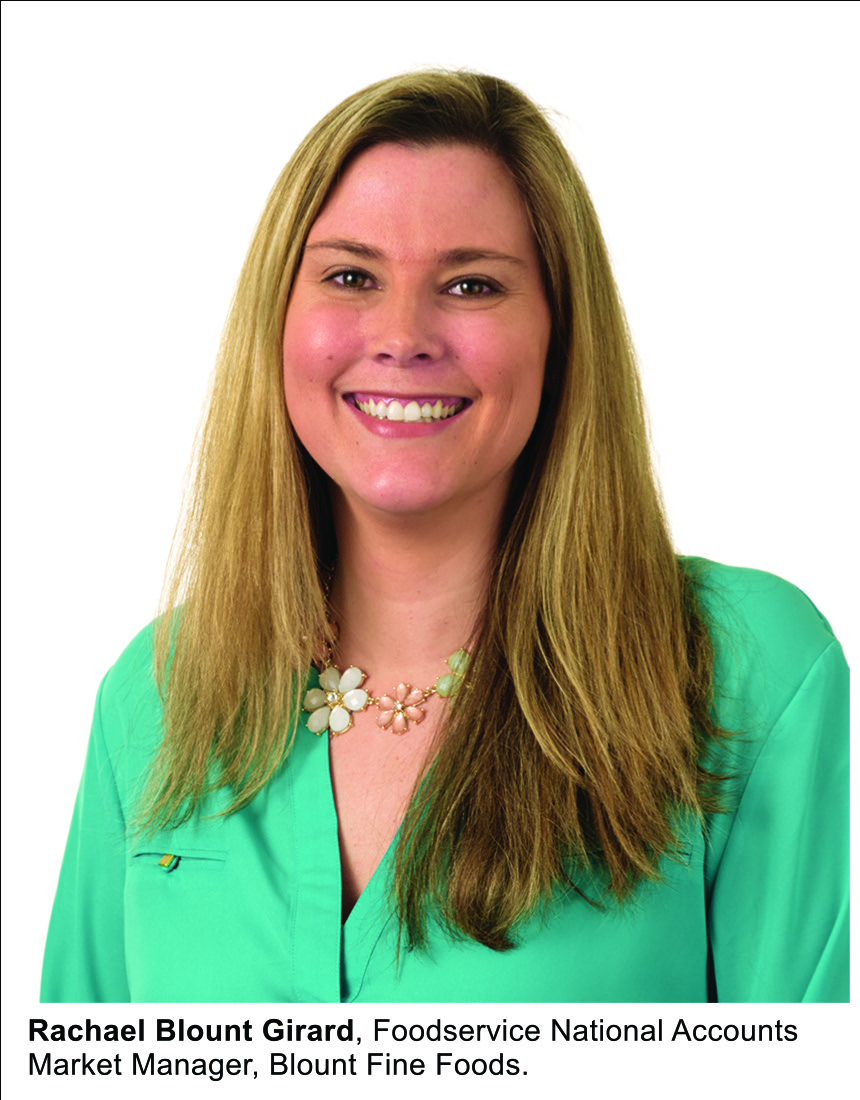 Blount Girard's new role is the primary driver of the Blount Fine Foods brand in the foodservice channel. She will be responsible for generating awareness, preference and demand for Blount products among restaurant chains and large foodservice operators across the country, which she will accomplish with a strategic mix of traditional and digital advertising, digital and direct contact engagement, and compelling content creation and distribution.
"As Rachael Girard has worked tirelessly to expend and elevate her skillset, she has taken on greater responsibility and delivered a string of successes for the company," said Bob Sewall, Blount's executive vice president of Sales & Marketing. "Rachael has grown within Blount Fine Foods, starting in our retail division, working in the Blount Clam Shacks. She moved over to Marketing a few years back as more and more of her time we being used for product and event photography and social media. Today, she is not only a vital part of the sales and marketing engine, she has also become a compelling and articulate spokeswoman for Blount products sold on QVC."
Blount recently tested the television sales channel, with Blount Girard appearing as company spokeswoman. The initial appearance, in which Blount Girard offered clam chowder for sale, was an immediate success, selling out in minutes. The success of the appearance, along with demand from viewers for Blount Girard to return, has led the company and QVC to expand the scale and frequency of Blount Girard's appearances.
Blount Girard was an accomplished architectural design photographer before joining the company her grandfather founded in 1946. She holds a bachelor's degree in fine arts from the University of Massachusetts, Dartmouth. She is a lifelong resident of Rhode Island who makes her home in Barrington with her husband Al and their two young children.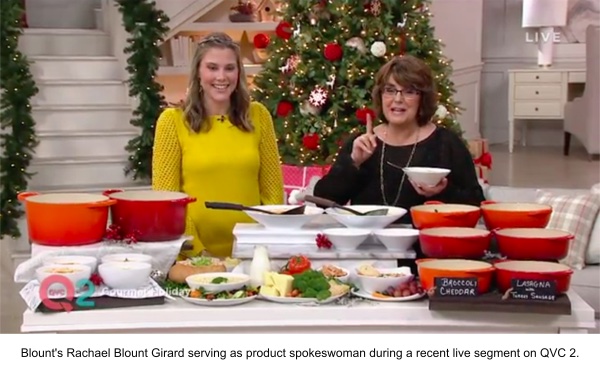 About Blount Fine Foods
Blount Fine Foods is a family-owned and operated company that has been processing food since 1946. Blount produces more than 900 premium products for restaurants, institutions, retailers and club stores in all 50 states. Blount manufactures more than 600 proprietary soup recipes, including 75 varieties of clam chowder alone. The company is the largest manufacturer of lobster bisque in America, was the first brand to launch restaurant-quality, single-serve grab-n-go fresh soups at retail, and has full lines of organic and gluten-free soups and sides.
Blount product lines include fresh and frozen (but never canned!) premium soups for foodservice and retail as well as premium side dishes and entrees. Blount's premium soups and specialty foods are made with the finest and freshest ingredients, locally sourced whenever possible, and handcrafted in small batches by a dedicated team through unparalleled customer collaboration.
Blount operates production facilities at its Fall River, Massachusetts headquarters, in Warren, Rhode Island and McKinney, Texas. Its award-winning production facilities showcase the company's commitment to energy conservation and sustainable business practices.
Customers include national restaurant chains that have their custom soups made for them in accordance with their secret recipes. Similarly, the deli departments of many large and small supermarket chains offer Blount-created hot-to-go soup selections as well as fresh store-brand pre-packed soup cups.
Blount also carries a full line of fresh and frozen soups sold to club stores and retailers nationwide under the Legal Sea Foods and Panera Bread brands.
Blount generates over 350 million servings of premium soups each year. For more information, visit www.BlountFineFoods.com.
# # #