Introducing Savor Simplicity, our e-magazine "for fans of eating well."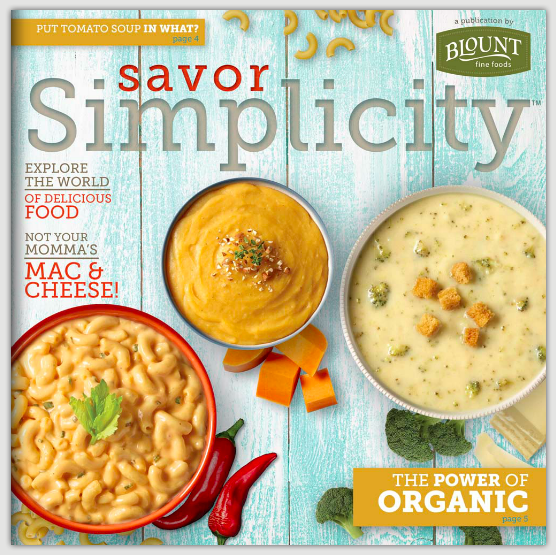 "No doubt about it. Today's health-conscious consumer is big on foods made from ingredients that come from nature, not a lab." With that opening line of Volume 1, Issue 1, this new effort, written for retail buyers, marketers and in-store managers is off and running.
"We will have features on consumer trends that can be repurposed by retailers for their own consumer publishing efforts," said Bob Sewall, Blount's EVP of Sales & Marketing. "And of course, we will pack these with recipes and menu ideas to showcase premium Blount soups, entrees, sides, and sauces."
The premiere issue includes the following stories:
"The Power of Organic – Organic is pure sales power in today's health-conscious marketplace"
"Not Your Mamma's Mac – Mac & cheese gets the creative recipe treatment"
"Lobster Bisque Benedict – A real treat made tastier with our classic bisque"
"World-Inspired Cuisine – We have a menu that enables anyone to become a vitual globe-trotter"
"Trending: Broth Bowls – People who love to create soup from scratch are loving our prepared broths"
Savor Simplicity will be published seasonally, but special issues are also in the plans.
Check it out for yourself at www.blountfinefoods.com/savor-simplicity.