New flavor to savor this winter
Warm up this morning with Lobster Bisque Benedict
While brunch is perhaps one of the more peculiar meals of the day it also has the potential to be the most memorable. With a spread of foods that provide the substance of a hardy breakfast and a decadent dinner you are sure to find something special for your taste buds. One dish that seems to catch everyone's attention is the eggs benedict, a staple of any classy brunch. Now imagine the looks of hunger you'll see on consumers' faces when they discover a lobster bisque benedict on the menu. With creamy bisque and succulent lobster meat layered over their favorite brunch entrée these diners are sure to be back for more. The 'how to' has been supplied below so that you can provide this memorable taste to your customers.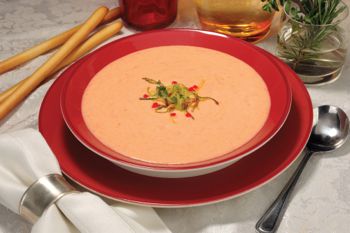 Ingredients:
4 English muffins
8 eggs, poached
4 Lobster tails, shelled & halved
1 Bunch of asparagus, blanched trimmed & halved on an angle
½ Bag (2 lbs) of Blount's Lobster Bisque, heated
2 tablespoons of fresh parsley, finely chopped
Now that you've got the list of ingredients to make this fine brunch entrée, here is how you pack it all together. First, place four English muffins in four separate shallow bowls. Arrange four pieces of asparagus on each muffin and place the poached eggs on top of asparagus. Add a half of a lobster tail and ladle ¼ cup of Blount's Lobster Bisque over each muffin and sprinkle with parsley. And there you have it, a five star dish that has already has your mouth watering.