Soup can be your next ingredient!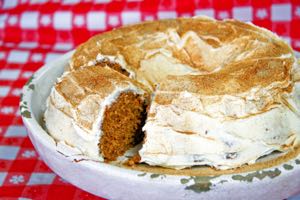 Soup in your cake? Yes indeed, don't let the recipe fool you though this combination makes for one solid serving. This Blount family recipe has been passed down through the generations, and improved as it goes.
This simple dessert take about an hour to make and serves eight.
Ingredients needed:
2 cups all-purpose flour

1 1/3 cups sugar

4 teaspoons baking powder

1 1/2 teaspoons ground allspice

1 teaspoon ground cinnamon

1/2 teaspoon ground ginger

1 16oz cup of Panera Bread Creamy Tomato Soup

1/2 cup vegetable oil

2 eggs

1/4 cup water

Cream cheese frosting (optional)
Directions
Heat the oven to 350°F.
Grease a Bundt pan.

Stir the flour, sugar, baking powder, allspice, baking soda, cinnamon, ginger and cloves in a large bowl.

Add the soup, oil, eggs and water and beat with a hand held mixer on medium for 3-4 minutes.

Pour batter into Bundt pan. Bake for 40 minutes or until a toothpick inserted in the center comes out clean.
Cool in pan for 30 minutes.
Frost with cream cheese frosting if desired.