NEWSCLIP: Soup is Hot
Improve sales by offering variety, organic, and marketing the joys of a food that's growing in popularity

By Anthony Stoeckert
From DELI BUSINESS magazine (August/September 2014) – Gone are the days when soups were nothing more than an appetizer, a cheap meal or what you made because someone was sick. Modern soups are not only about convenience, but also flavor and variety.
"Over the past five years, soup has been a growing category for our business, and far beyond that timeframe in the industry," says John Becker, senior director of marketing for Sandridge Food Corp., based in Medina, OH. He cited a study by Technomic reporting that "restaurants offering soup and salad now face considerable competition from the retail segment,"with 54 percent of consumers claiming they source soup from home at least once a week.
"We've seen this demand directly influence our retail and private- label soup business with double-digit growth in soup sales throughout the past five years," says Becker.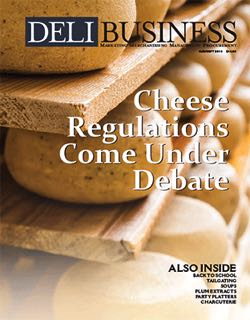 Bob Sewall, executive vice president of sales and marketing for Blount Fine Foods, headquartered in Fall River, MA, says the market is growing largely because soup is becoming a popular option for dining at home for families who want a nutritious, delicious, and affordable meal.
"It's a nice healthy option, so mom and dad have soup at home," says Sewall. "They feel good about its nutritional value and they add a salad and bread, and the family is spending a lot less money."
The Scoop On Soup
"Fresh, refrigerated soup is currently a $243 million category, growing nearly 10 percent year over year," says Jamie Colbourne, chief executive of Portland, OR-based Harry's Fresh Foods & Cuizina Food Co.
According to Becker, restaurants influence retail food sales, with popular restaurant offerings becoming hot in delis after about six months to a year.
"There has been quite a bit of buzz recently on chilled soups and gazpacho, and it's certainly on our radar as well," he says. Sandridge is taking note of inventive flavors such as watermelon-tomato gazpacho, served at Buccan in Palm Beach, FL, and creamy cucumber with basil and mint at Trattoria Stella, in Traverse City, MI.
The latest trends in soups, says Becker, lean more toward healthier and fresh ingredients and ethnic flavors.
"All of our soups are fresh, refrigerated products with premium ingredients which alone can achieve a consumer's perception of 'healthy,'" he says. "Since all of our soups are fully cooked and ready-to-serve, many of our recipes have been crafted with other health and dietary concerns in mind, such as natural ingredients, preservative free, gluten free, dairy free, low sodium, zero grams of trans fats, etc. Our Fire Roasted Vegetable and Garden Vegetarian Vegetable are both vegan examples of this … and they can be served chilled."
Although there is a demand for unique flavors, some customers will always stick to the classics, says Mary Shepard, director of sales for Fortun Foods Inc., based in Kirkland, WA.
"We try to have layers of flavor," she says. "A good-quality soup will be good to the bottom of the bowl. A sub-par soup you can tell right after a few spoonfuls." Sup-par offerings often are too salty and have artificial flavors.
A Fortun soup that Shepard describes as having a "wow factor" is gluten-free Lentil & Sweet Sausage. And with ingredients including carrots, onions, garlics and spices, it's a meal on its own. Other popular varieties she makes note of are Portuguese Sausage and Bean and Fresh Spring Asparagus with roasted garlic.
Soup For Health
While healthier options are a trend in soups, the word "healthy" isn't as simple as it seems according to Sewall.
"It's not that tomorrow morning you're going to wake up and you're going to be a vegan," he says. "What it means is that people are looking for cleaner ingredients." That, he explains, applies to the prepared- food industry as a whole, but especially in soup because it often consists of many ingredients, and customers want to know what they're eating.
Shepard says the key to healthier soups is a water-based recipe with fresh vegetables and lean protein.
"Even our American Kobe Beef Chili can be healthy," she says. "It may have [red meat], but the rest of the ingredients are healthy beans, diced tomatoes, onions, green chilies, jalapeno peppers, garlic and spices."
Colbourne says ingredients such as kale, lentils, cauliflower and quinoa "are king" in today's soup business.
"Because consumers are looking for exciting flavors they can't make at home, world-inspired flavors such as Asian-and Hispanic-style soups are another hot trend in the refrigerated-soup category," he says, adding that vegan, vegetarian and organic varieties also are popular trends.
The Organic Trend
Using organic ingredients is another hot trend. The market for organic has grown to the point that it's not enough simply to use organic ingredients — expectations for robust flavor are just as high for organic soups as they are for standard soups.
"We're going organic big time, but the organic flavors are very full and high in flavor," says Sewall. "So what happens is, the consumer says, 'This is a great soup. Oh, by the way it's organic.'"
Two percent of customers who want organic foods are so devoted to the organic concept they would "eat wood chips" if they were organic, he says. "We're trying to cast that net out for the other 98 percent."
Blount is doing that with vegetarian organic chili, which is full of fresh vegetables and has a bold, spicy flavor.
"There are so many ingredients in it that when you're done eating it, you're full," says Sewall. Consumers who wouldn't normally eat organic vegetarian chili are "happy and satisfied" because it tastes great.
Getting Rich
Most people want to eat healthier foods, but they often fail. Becker says consumers still have a hearty appetite for richer, more- indulgent soups featuring cream, cheese and potato.
"We continue to see strong growth in rich, full-flavored soup varieties and also significant growth in our vegan offerings," he says.
Consumers also want the best when it comes to rich soups. Blount offers a creamy, gluten-free clam chowder with real cream, butter and sea clams and the company pack- ages it in a way that doesn't require a lot of preservatives.
"With our technique it's cooled so fast … that we're able to get consumers a great product with a shelf life of 70 days,"he says.
Fortun Foods is seeing an increase in sales of clam chowder, which is cream- based and includes potatoes along with fresh vegetables. "The classics, like cheddar and broccoli and roasted tomato soup are always comfort foods that are here to stay," says Shepard.
How To Improve Merchandising
Retailers can improve merchandising by offering impressive price reductions at least once a month, advises Colbourne.
The physical location of the soup is also important. He suggests placing it in the ser- vice deli, in full sight, and also lit well and advertised. "Soup stations in retailers that are enjoying steady sales in this category offer both hot and cold soup in an area with high traffic, usually close to fresh produce and deli counters," says Colbourne. "This positioning drives the consumer to the inevitable soup- and-salad or soup-and-sandwich meal solution for lunch or dinner."
Becker notes Sandridge's soups are usually offered in the prepared-foods and deli departments of retail stores, and he offers another option that has the potential to increase sales.
"We suggest to our retailers a cross-merchandising approach within the grab-and-go area of this section, where retailers can cross-promote soups with like-items including ready-to-eat salads, sandwiches, etc.," he says. "Along with cross-merchandising within the same section, we suggest a secondary placement in other areas of the store, cross-merchandised with complementary items such as in the seafood department next to refrigerated fish or in a cooler next to the fresh seafood case, 'behind the glass.'"
He also suggests using small refrigerators at the end of an aisle near the canned soup section or by the bakery section near bread because soup and bread is a classic combination.
"These coolers stand out against the surrounding environment and offer the ability for additional signage and unique branding concepts," says Becker.
Sewall notes delis also can take advantage of the fact soup isn't just for cold weather. They can follow the trend of restaurants such as Panera Bread Co., which does a strong business with soup year-round.
Having a section devoted to soup that offers a lot of variety can help customers choose what they want, he says — and expect customers to try different types with each visit.
"The people who eat soup love soup, and they want all different kinds of varieties," says Sewall.
Seasonality also is important as a way to promote certain soups during certain times of the year.
"You can have a great pumpkin bisque or an organic butternut squash in the fall and rotate varieties throughout the season to give consumers what they want," he says.
Standing Out With Signage
Products can get lost in today's super- markets and delis because so many options are available, according to Becker. That makes additional POS material necessary to attract and engage consumers.
"It's important to utilize signage to address the lifestyle of your target demo- graphic, to communicate the ease of preparation or use of the product, and to describe the key selling points of the recipe to the consumer," he says. Signage explaining health benefits or allergens is important as well because customers want easy access to this information as they shop for takeout soup.
The Importance Of Packaging
Just as it is for most foods in the deli, packaging is a crucial element to merchandising and marketing soup.
"It is truly an art and inspires the manufacturer to creatively blend several characteristics that will provide the user with a positive experience, as well as to attract the consumer and engage them with the product," says Becker. "Characteristics include functionality, ease of use, sustainability, color psychology, size, scaling, material, etc. Like signage, the goal of packaging is to attract and engage the consumer, but also to create an experience after the purchase to evoke a repeat purchase."
Sewall says Blount's packaging strategy includes offering smaller, 10-ounce cups for club stores and conventional retail because soup away from home or as a snack has become an important part of sales. The smaller size means adults can have soup at work, and kids can take it to school for lunch or as an after-school snack.
"On the flip side, the larger, 32-ounce size becomes a great family option where you can bring soup home for dinner time and serve multi- ple people," says Sewall. "The 32-ounce lets you do that economically because the cost is less per ounce than the smaller packages."
The Bottom Line Is, Soup Is Hot
"Soup is here to stay and it's growing," says Sewall. "And the retailers have to be cognizant of this because soup in restaurants is now the No. 1 appetizer on restaurant menus. Soup has now overtaken salads as the No. 1 appetizer. We know in retail we have to compete with restaurants, so we make sure that our retailers are aware of the fact soup is not only growing in retail, but it's growing in foodservice as well."      DB