#TBT: The right clam for your chowder
How the ocean quahog picked up the slack from a shrinking oyster supply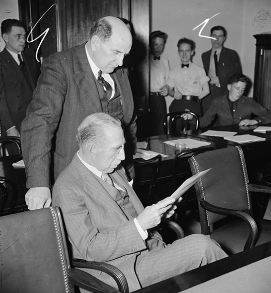 In 1938 Senator Theodore F. Green, a powerful politician, brought FDR's New Deal to Rhode Island. This finally put ocean quahogs on the War Department's "approved list" and opened up new clam beds off the New England coast that were ripe for the picking.
At this time Blount was looking to find a new advantage and the ocean quahog known for their strong taste was bountiful and the waters off Rhode Island. Ocean quahogs might be palatable even preferable in soups or stews but you were not able to buy them unless they were on the Army's "approved list". One trip to Washington was all it took to remedy this.
Camp Edwards, which grew phenomenally during the early 1940s was one of the largest customers for Nelson Blount's early enterprises: W.E. Blount Ice, F. Nelson Blount Distribution, and the Narragansett Bay Packing Company.